Green Economy, a new service that will play a key role in building a greener, net-zero economy powered by local suppliers, launched on Tuesday 28 June 2022.
At a launch event hosted at the KPMG offices in St Peter's Square, plans to support the UK's green tech sector growth and address market failures were revealed alongside the new branding and website for Green Economy.
There are currently 75,700 businesses in the UK's Low Carbon and Environmental Goods and Services (LCEGS) sector, employing 1.2 million people. It's estimated that a further 700,000 jobs could be created as we transition to net zero.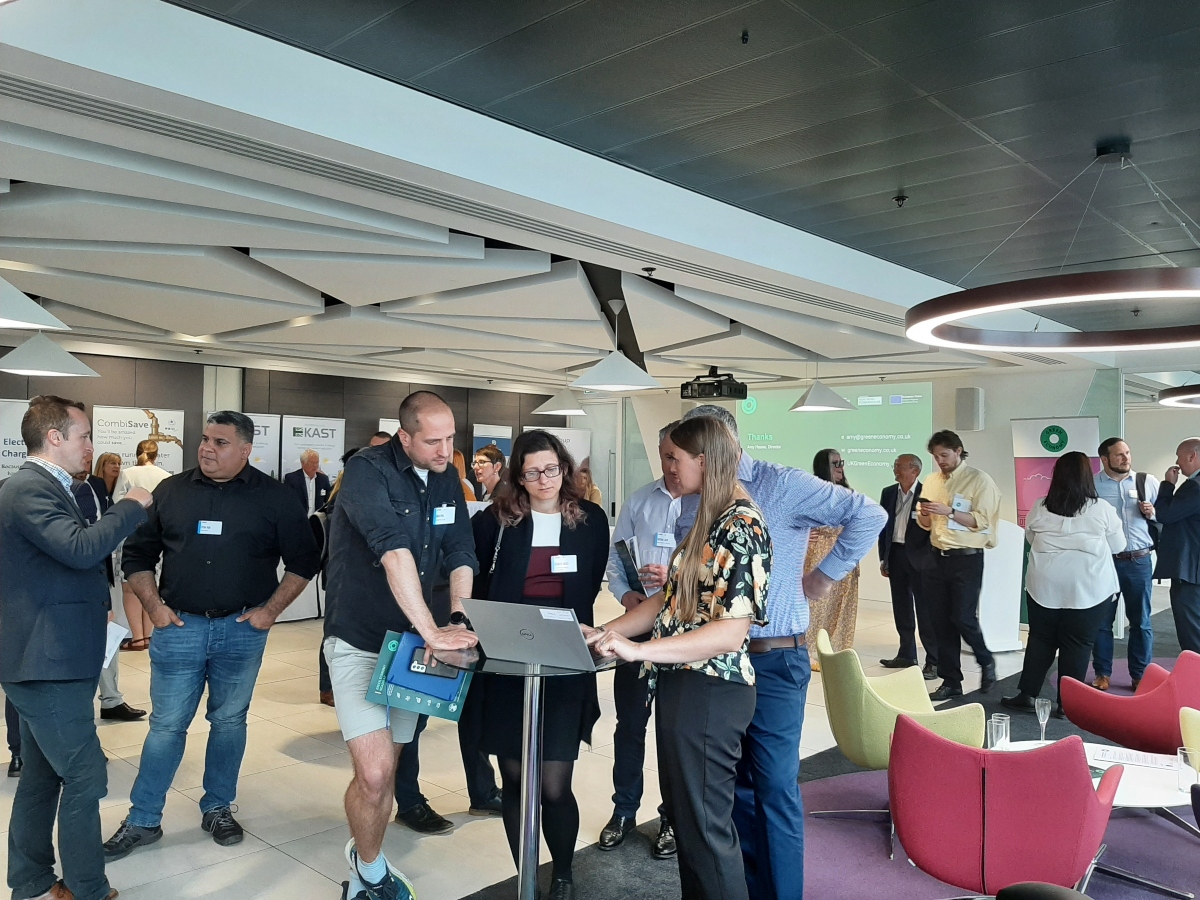 This transition represents a significant opportunity to benefit the whole of the green supply chain. While some businesses are ready to take on these opportunities, smaller businesses, which make up a large proportion of the market, would benefit from extra support.
There are also market failures that must be addressed to increase uptake and consumer confidence in green products and allow the sector to reach its full potential.
Green Economy is the result of decades of listening and learning about the needs of the sector. A team of chartered environmentalists and consultants with over 40 years of experience will champion and support the businesses that make a net-zero economy possible.
Right now, the green sector is vast. Green Economy aims to bring together the wide range of LCEGS sub-sectors, from renewable energy to electric vehicle leasing. It will create an active network of these suppliers, investors and purchasers to develop a green ecosystem and encourage collaboration.
Green Economy will create a simplified supply chain and online marketplace as well as advocate for green businesses of all sizes. In doing this, Green Economy hopes it can influence decision-makers to improve procurement practices. The overall aim is to overcome the low uptake of green technologies by creating unrivalled knowledge of the supply chain and increasing confidence in local suppliers to deliver the transition to net-zero.
Green Economy started as a Greater Manchester initiative, but now the region's green tech sector is the strongest outside London, it is ready to help businesses further afield to create a truly green economy for Britain.
Green Economy will support the growth of the UK's green tech and services sector by working across five key pillars.
1. Drive Green Economy Growth
Support the growth and development of these businesses to improve performance and competitiveness by providing access to business support and market intelligence, embedding best practices and upskilling workforces.
2. Unite the sector and supply chain
Green Economy aims to unify the sector through an online marketplace, connecting buyers and suppliers and encouraging collaboration, innovation and entrepreneurship.
3. Improve access to sales opportunities
Green Economy will work with buyers to help them navigate the complex, fast-moving green sector with confidence while providing tailored support throughout the procurement process.
4. Increase confidence to buy green
To overcome market failures and the slow uptake of low carbon technology by showcasing the best of the sector and supporting businesses to find the right supplier.
5. Supporting net-zero policies
Green Economy will support the implementation of net-zero policies by developing the supply chain and strengthening policymakers' knowledge of local and regional capabilities,
At the launch, Amy House, Director of Green Economy, said,
"A huge challenge facing a lot of these businesses is operating in a turbulent market and keeping track of what's going on. That's amplified for small businesses. Going forward, we want to share our data with stakeholders to accelerate change for local businesses.

We want more green tech businesses to showcase their services. We want more businesses to know climate change is happening and explore our marketplace to drive their own change."
Green Economy is committed to delivering the best experience for members and businesses that will support the transition to net-zero. Therefore, it has established an Advisory Board to shape the journey including LEP member Dr Marilyn Comrie, The Blair Project, Amer Gaffar, Director of Manchester Fuel Cell Innovation Centre and Samantha Nicholson, Director of Manchester Climate Change Agency. Other representatives come from Siemens Plc, Octopus Energy and Electricity North West.
Speaking at the event, Chair of the Green Economy Advisory Board Louise Marix Evans said, 
 "I have joined the Green Economy Advisory Board because I believe that the net-zero transition is a huge opportunity, but it needs to be relevant, easy to act and to benefit day-to-day business. By bringing green tech and low carbon companies together with purchasers and investors through an active network, Green Economy can develop an ecosystem of innovation, services and solutions. We can help remove the barriers and challenges, grow the green and low carbon sectors and transition the rest of the economy with it."
Find out more about the work of the green economy here.