Graphene-enhanced 'Concretene' can reduce concrete's CO2 emissions by up to 30% – a major boost for sustainability of global construction sector
A roller disco building project trialling low-emissions concrete has underpinned Greater Manchester's role in the Green Industrial Revolution, demonstrating how the city-region is leading efforts to decarbonise the global construction sector.
Concretene uses graphene – the revolutionary 2D material first isolated at the University Manchester – to significantly improve the mechanical performance of concrete, reducing the amount of material required and the need for steel reinforcement.
This can cut CO2 emissions by up to 30% and drive down costs, meaning Concretene is both greener and cheaper for developers.
Concretene is just one of example of the innovation underpinning Greater Manchester's determination to be at the forefront of the Green Industrial Revolution, with a commitment to reaching net zero carbon neutrality by 2038.
Bold initiatives across smart energy, retrofitting, transport, natural environment, green finance, and green skills and jobs are being highlighted by a new website – www.greenergreatermanchester.com.
Concretene has been developed by the University of Manchester's Graphene Engineering Innovation Centre (GEIC) and Nationwide Engineering, a company co-founded by a former University of Manchester civil engineering graduate, Alex McDermott.
It is being used to create a new 54×14-metre mezzanine floor, which will become a roller disco at Manchester's Escape to Freight Island, at Mayfield Depot.
The installation is the first ever commercial use of Concretene in a suspended slab and marks a huge step towards testing and developing it as a widely used building material, allowing it to be used as a substitute for concrete on an industrial scale.
Nationwide Engineering Co-founder, Alex McDermott, said:
"Today is a huge milestone for the team, as not only is this our first commercial use of Concretene, but also the first suspended slab as used in high rise developments.
"As world leaders in Graphene Enhanced Concrete technology, the interest from the international building industry has been beyond expectations, as looming legislation is forcing significant carbon reductions throughout construction."
"Our partnership with the University has fast-tracked the development of Concretene, going from lab to product in 18 months," added Nationwide Engineering co-founder, Rob Hibberd.
James Baker, CEO of Graphene@Manchester at the University, said:
"We're delighted to play a part in this exciting project at Mayfield, showcasing how our research can translate into real-world outcomes for sustainability that can be adopted by business and make a major contribution to the city region's ambitions for net-zero by 2038.
"This Manchester-based technology can also contribute to levelling up by positioning our region as a global R&D centre for sustainable materials for the construction industry – attracting investment, creating new businesses and offering high-wage jobs."
Justin Kelly, Greater Manchester Local Enterprise Partnership board member and member of the Graphene, Advanced Materials and Manufacturing Alliance, added:
"Concretene is a game-changer in the race to lower the construction industry's carbon footprint and is a great example of how Greater Manchester's leadership in advanced materials innovation could shape cities of the future. It also makes a major contribution to the city region's ambitions to reach net-zero by 2038."
The pour of the suspended slab at Mayfield marks a significant step towards testing and developing Concretene as a widely-used building material, allowing it to be used as a substitute for concrete on an industrial scale.
Concretene reduces the amount of concrete required in construction projects by as much as 30%. It also offers efficiency savings by slashing drying time from 28 days to just 12 hours.
Production of cement for concrete is one of the leading causes of global CO2 emissions, producing around 8% of total global emissions.
Amid ever-increasing global industrialisation, concrete is the most widely-used substance on Earth after water. For every tonne of cement, 1.25 tonnes of CO2 is produced. In context, global CO2 from cement production fills a space the size of London's Millennium Dome every 23 seconds.
The use of graphene in concrete produces 6.3kg of CO2 per tonne of concrete – a 21.94kg reduction per tonne compared to traditional steel reinforcement. The total estimated reduction in CO2 emissions for this floor slab compared to a traditional concrete solution is 4,265kg.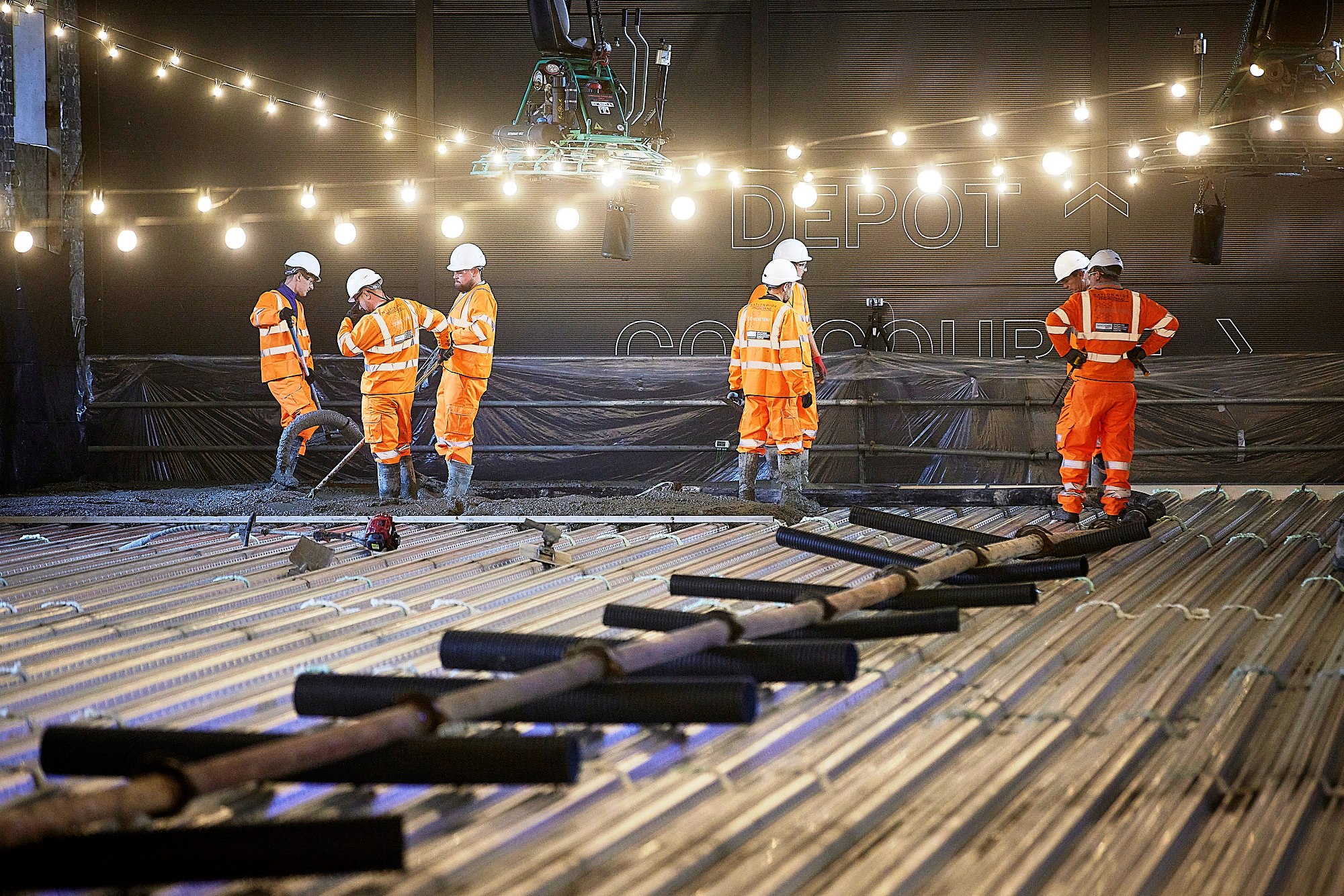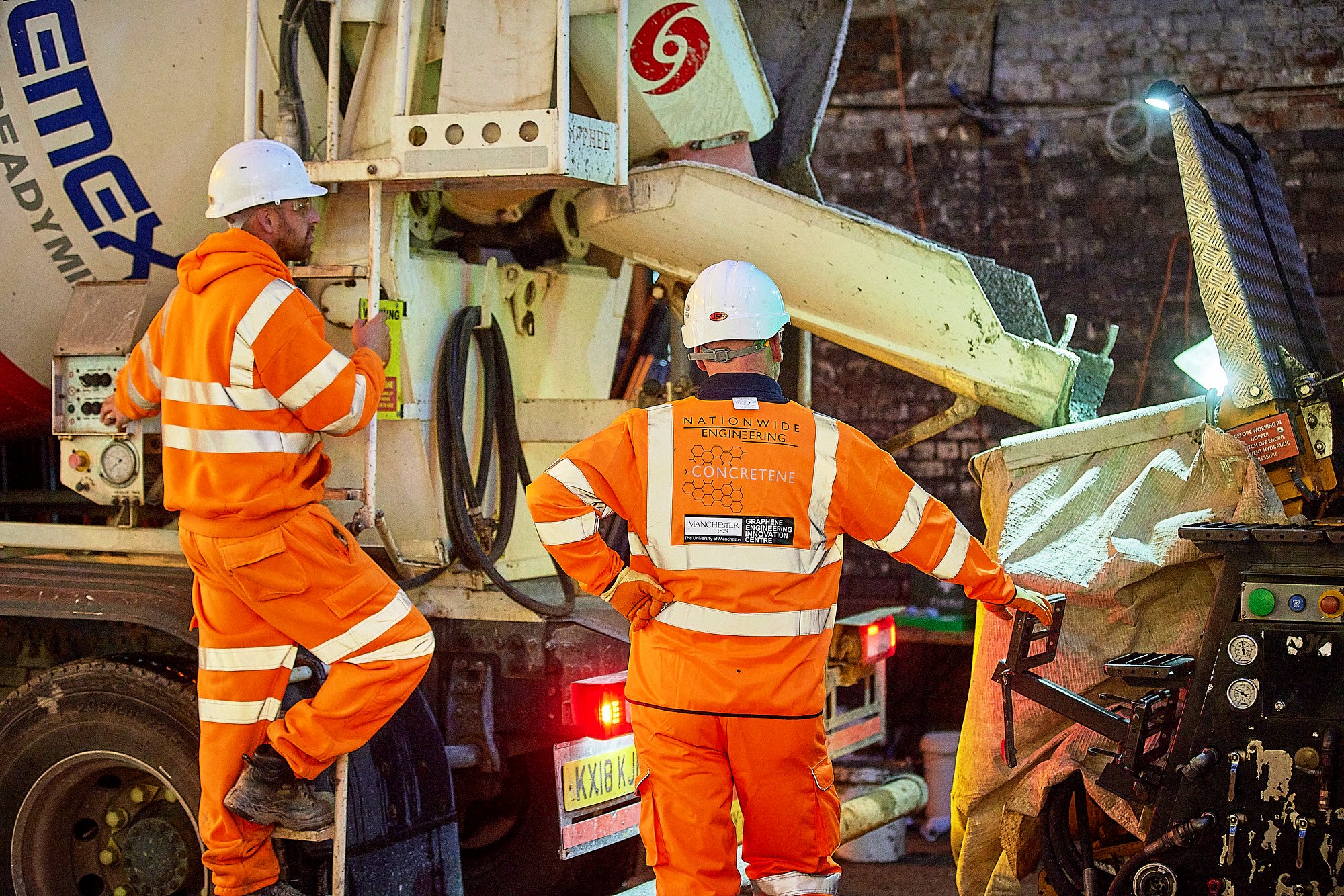 Concretene pour at Mayfield Depot