Mayors and business leaders from both sides of the Pennines set out a shared vision for renewing the North's industrial heritage at an event held at Hopwood Hall College in Middleton this week.
Mayor of Greater Manchester, Andy Burnham, and Mayor of West Yorkshire, Tracy Brabin, discussed the importance of advanced machinery and manufacturing in "reindustrialising" the North, with job creation, skills development and increased prosperity fuelled by innovation.
They were joined by business leaders from both regions as well as Dr Peter Thompson, CEO of National Physical Laboratory (NPL), the UK's National Metrology Institute, at the event on Thursday 9 February.
NPL is a key partner in the Advanced Machinery and Productivity Institute (AMPI). AMPI will support the machinery manufacturing industry in the UK by enabling invention, innovation and the incorporation of digital technology and is set to establish a centre of excellence in Rochdale.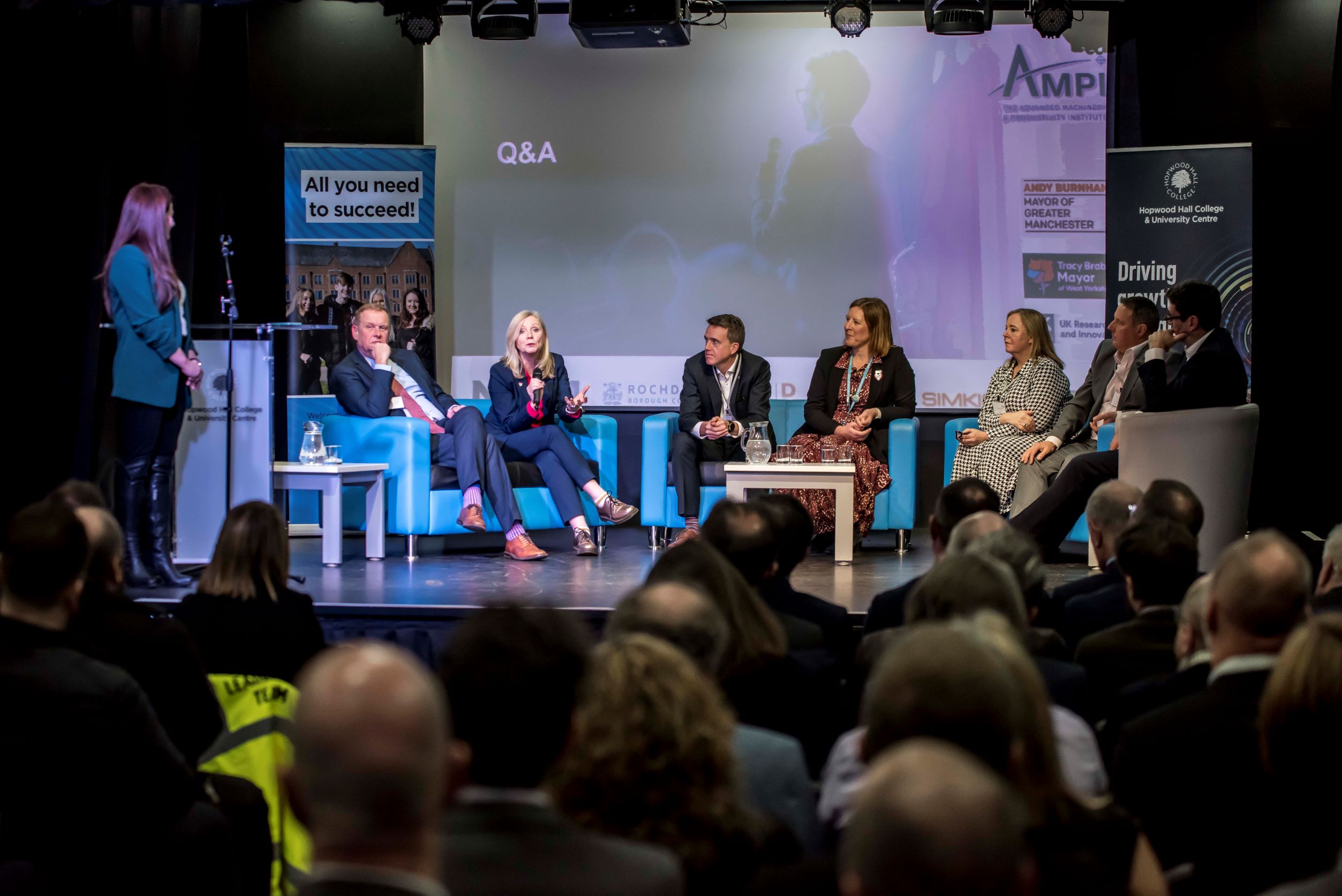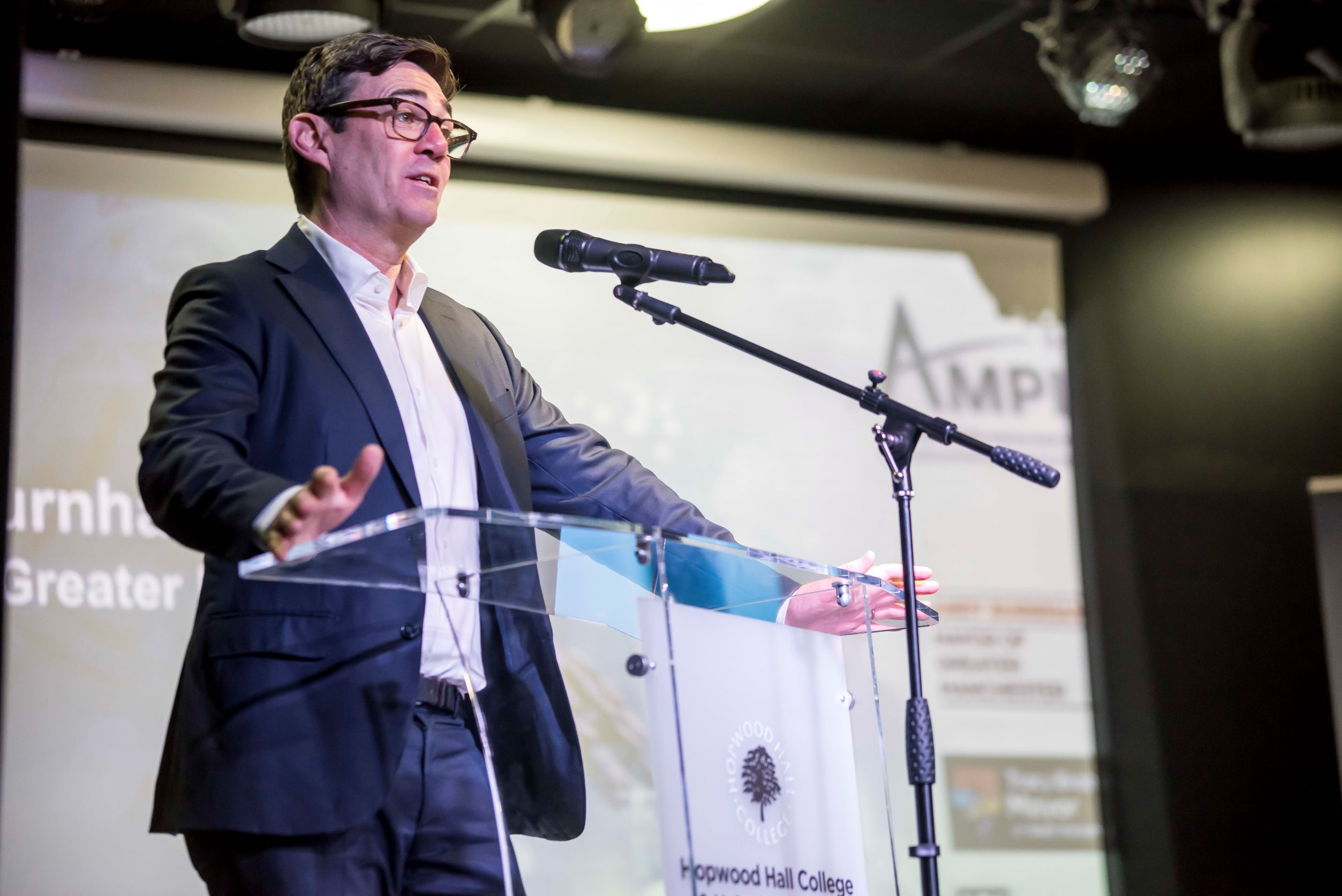 AMPI's presence will be key to the development of an advanced machinery and manufacturing supercluster in Atom Valley – the plan for jobs, development and investment across Rochdale, Oldham and Bury led by a Mayoral Development Zone.
Councillor Neil Emmott, Leader of Rochdale Borough Council, opened the event, saying: "In our borough, cooperation is what we do best. By bringing together the very best of the manufacturing community and educational partners, both local, regional and national, AMPI will create hundreds of highly skilled, highly paid jobs on our doorstep.

"This is an unrivalled opportunity for our residents to be part of and I'm really proud of what's been achieved so far. The importance of this incredible project cannot be overestimated. By bringing major organisations together in this way to pool the best skills, talent and resources from across the country, we have the power to create cutting edge technology, which will transform the manufacturing industry in a way that will have an impact far beyond our borough's borders."
Mayor of Greater Manchester, Andy Burnham, said: "If you go back a century this area was the powerhouse of the world – the first home of advanced manufacturing and machinery. We led the world and I see no reason why we can't do exactly the same again.

"This is the best opportunity we will get to reindustrialise the North of England, but in a good way, a clean way that brings prosperity in the future. If we're going to rise to that challenge it will require us to innovate, to bring forward new materials and ways of making things.

"I see Atom Valley as being right at the heart of that vision. If we go first we will bring forward the new technologies and develop our skills base. It will be built by a network of organisations and institutions like AMPI that are ready to go faster – that's how the North of England rises again."
Mayor of West Yorkshire, Tracy Brabin, said: "It's about creating opportunities, accelerating innovation and driving forward the vision we share for a modern Northern economy.

"In West Yorkshire manufacturing is in our DNA. One in ten people in our region work in manufacturing, and this increases to one in five in areas like Dewsbury and Huddersfield. The sector contributes over £7.12bn of GVA to our region.

"Our regions enjoy a rich relationship with manufacturing that spans three centuries of progress. We are embracing machinery and technology to turbocharge manufacturing – not just in our region, but across the UK's industrial landscape and beyond."
Dr Peter Thompson discussed the funding opportunities for product development available to manufacturers in the region from a new £1.2m programme, Measurement 4 Business (M4B), which allows SMEs in the region to access the NPL specialist measurement expertise at no charge.
Dr Peter Thompson, CEO of NPL, said: "I believe our prosperity is deeply rooted in our ability to innovate. It's exciting to be here at Hopwood Hall where many of the future innovators are learning the skills they will use to drive forward the future economy.

"We know there's more we can do to enable innovative SMEs in Greater Manchester and West Yorkshire access our people and facilities. That's why we're launching the Measurement 4 Business programme here today."
During a panel discussion, Paul Simkiss, Managing Director of Rochdale-based Simkiss Control Systems, and Mandy Ridyard, Director at Produmax, an aerospace components manufacturer based in Bradford, shared their insights and ambitions as leaders working in the sector.
Julia Heap, Principal and Chief Executive of Hopwood Hall College, discussed the crucial role skills development will have in the sector's growth, while Gareth Edwards, AMPI Programme Director at NPL, gave an overview of AMPI's work and details on the new funding available.
Paul Simkiss, Managing Director of Simkiss Control Systems, said: "We work with industrial companies throughout the country but we see all the time they're buying advanced machinery overseas.

"That's great when it's brand new, but when it fails, they have problems with time zones, getting engineers, and it costs hundreds of thousands of pounds waiting for the machinery to come back online. They would welcome the opportunity to buy in the UK."
Mandy Ridyard, Director of Produmax, said: "We export 70 per cent of what we make, but when we look at the productivity of the UK, we're behind America, France and Germany. Not only that, but the energy cost is higher in the UK, meaning I need to increase my productivity to compete on a global stage.

"Anything that AMPI can do to help that is really welcome. As well as that, it can give a bigger voice to manufacturing in the UK. We need to make sure manufacturing is part of the narrative."
Julia Heap, Principal and Chief Executive of Hopwood Hall College, said: "At Hopwood Hall we have around 3,200 16 to 18-year-olds studying this academic year across both campuses. We're a technical vocational college – everything is around new T-Levels, BTECs and City and Guilds qualifications.

"We are investing just over £10m in our technology centre, providing up-to-date learning facilities and equipment, with staff equipped to support students on their next steps. We work with employers right from the outset to understand what their needs are and provide work experience for students. It's important for Rochdale – we are a deprived borough and our students deserve the opportunity to work in high-level, well-paid jobs that help the community prosper."
Gareth Edwards, AMPI Programme Director at NPL: "AMPI will give us a place and support across the nation for allowing companies to really innovate.

"We want to be the country people want to invest in and buy from, across next-generation machinery and materials. How are we going to make the materials? How are we going to turn those materials into something that gives the UK the edge, while realising our social and net zero ambitions? It's going to come from machinery, because machinery is at the heart of everything we do."
After the event, the Mayors were given a tour of Hopwood Hall College, meeting with students to learn about their studies and ambitions for the future.