GM LEP Board Member Steve Connor chaired an event to launch a new Energy Innovation Agency that hopes to accelerate Greater Manchester's carbon-neutral targets.
This unique collaboration between local government, the private sector and academic sectors, aims to help Greater Manchester remain at the forefront of green innovation.
The Energy Innovation Agency, which was launched at an event in Bruntwood's Circle Square development on Thursday 28 April, has been established to bridge the innovation gap by bringing together critical players in the field and creating a pathway for new ideas.
The agency has been devised by 8 key partners: Greater Manchester Combined Authority (GMCA), The Growth Company, Hitachi Europe, Bruntwood, SSE Enterprise, The University of Manchester, Manchester Metropolitan University and the University of Salford. It's hoped that the collaboration will transform energy consumption across Greater Manchester and beyond, making it more accessible and fairer for all.
The main objective of the Energy Innovation Agency is to attract innovators to Greater Manchester, helping them to scale up solutions, focus on rapid commercialisation, and encourage investment which will allow green initiatives to become a reality for more people.
To launch the event, Steve Connor GM LEP Board Member said in his opening address, 
"Yet again, Greater Manchester is taking the lead and, today, we take the first step on a different kind of journey."
To celebrate the official launch of the agency, innovators and energy professionals gathered to discuss the obstacles and challenges faced in reaching net-zero targets as well as potential solutions. These challenges include the innovation gap, issues in retrofitting, skills gaps, supply chains and timings, inclusivity, and the wider education of people around new technologies.
There was also an address from the Mayor of Greater Manchester and GM LEP Board Member, Andy Burnham and a panel discussion between key partners which discussed the necessity to look at the energy crisis holistically to promote the vital acceleration of change.
At the launch event, Peter Emery, CEO of Electricity North West and Chair of the Energy Innovation Agency said,
"If we keep going at the same rate as we are, Greater Manchester will blow its carbon budget in six years. The political will is there, but more action is needed. We need to turn frustrations into positive outcomes, giving a pathway to change and innovation. The Energy Innovation Agency adds a fresh dimension and Greater Manchester is the place to make this happen."
One of the ways the Energy Innovation Agency hopes to attract innovators into Greater Manchester is through challenge events, where they will be invited to pitch ideas and solutions to specific challenges. The first challenge was initiated at the Energy Innovation Agency's Launch and focuses on the issue of non-domestic Retrofit.
Around 80% of Greater Manchester's current buildings will still be standing in 2050, so retrofitting needs to be a priority. However, with heritage status, currently occupied buildings and the new, more agile approach to working life provide significant challenges that the agency is asking innovators to help overcome.
Bev Taylor, Energy and Environment Director of Bruntwood said,
"All new builds have sustainability at the heart, but this is less easy when retrofitting. No one size fits all, and it takes time to get the right solution. People's expectations of a modern workplace are changing, and along with the climate crisis, we can no longer do what we've always done. We need change now, and I'm hoping the Energy Innovation Agency can speed this up."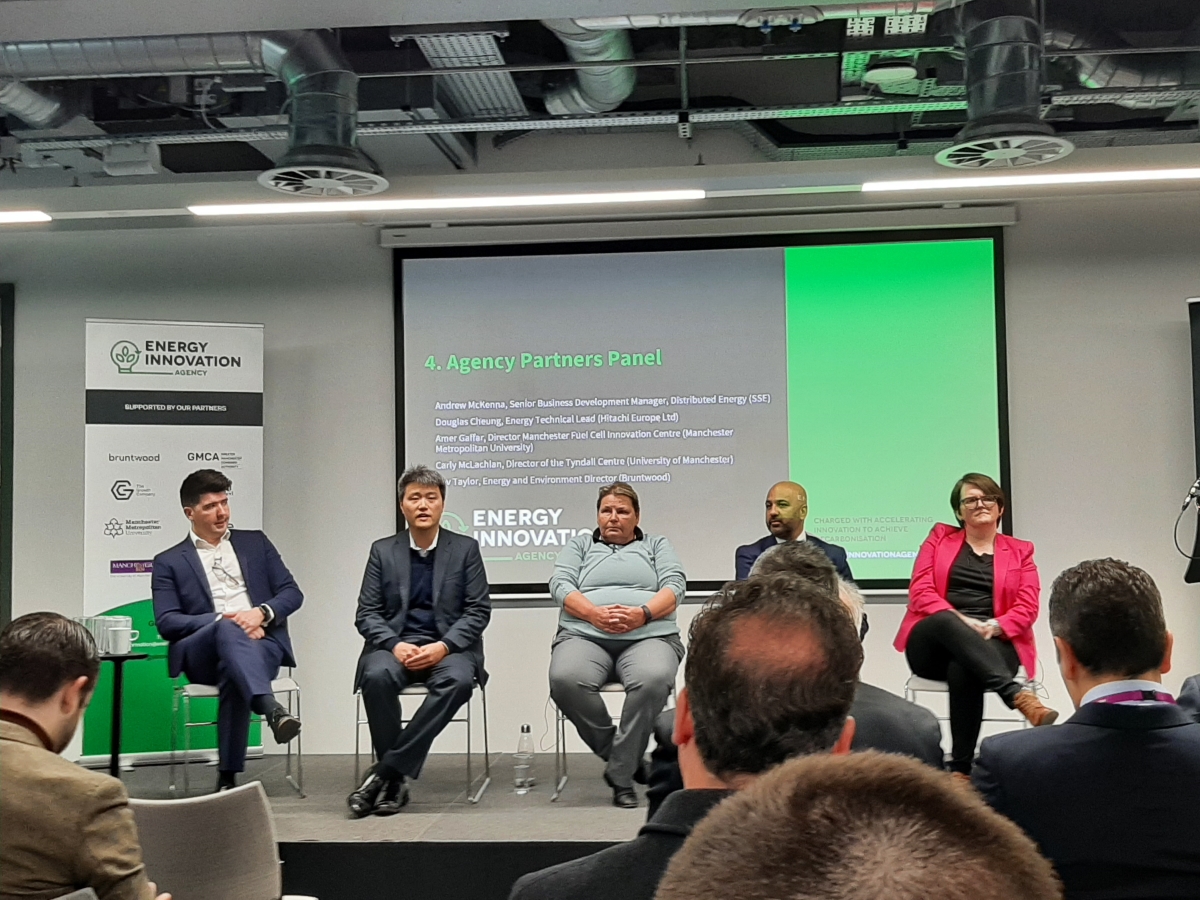 Energy Innovation Agency launch, Bruntwood Circle Square