A Greater Manchester Local Enterprise Partnership Reception provided an opportunity for attendees to learn more about Greater Manchester's Levelling Up Deal with Government and the spirit of innovation and collaboration which supports the city-region's Economic Vision.
Chaired by GM LEP chair Lou Cordwell OBE, the Conservative Party Conference fringe event heard from speakers representing business, the scientific and innovation community, and cross-party political leaders.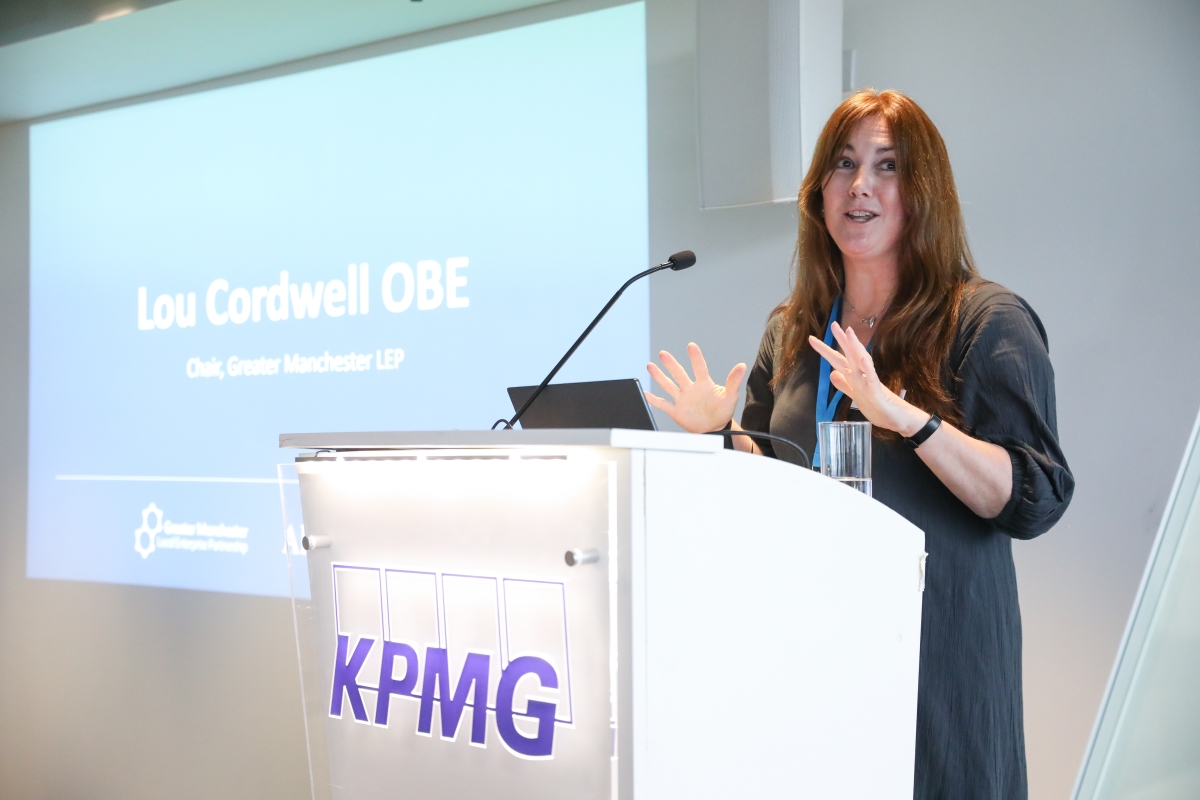 Lou Cordwell, Chair of GM LEP
Invited guests attending the reception included Conservative Party Conference delegates, GM LEP board members, local business, academic and scientific community members, Greater Manchester political leaders and journalists.
Greater Manchester mayor and GM LEP board member Andy Burnham spoke about the detail of Greater Manchester's Levelling Up Deal with Government, including his vision for a London-style public transport system with London-level fares, supporting carbon net zero innovation and connecting residents across Greater Manchester to employment opportunities.
Greater Manchester's Levelling Up Deal is a "positive offer to government… with cross-party support and the backing of the business community," he said.
Cllr Martyn Cox, Conservative leader of Bolton Council, said he supported Greater Manchester's Levelling Up Deal with Government because it would bring significant benefits for residents across the city-region, including Bolton.
He said:
"I support enterprise and I want to see growth, and a proper transport system will deliver growth. It's important to the towns as well as the cities."
Attendees were also addressed by Sir Richard Leese, GM LEP board member and outgoing leader of Manchester city council, who talked about some of the successes achieved in Manchester in recent years, and the importance of those successes being shared across the city-region.
Sir Richard said it was vital to invest in art, culture and the things that make the city-region "a place people want to be", as well as local and regional transport links.
Representing business leaders, TalkTalk CEO Tristia Harrison spoke about Greater Manchester's strengths as a platform for innovation and growth, particularly in the digital sector.
She explained how TalkTalk had started life as a start-up in Salford many years ago, evolving into a major tech company which recently closed its London headquarters in favour of returning to a base in the city. She said the relocation to Salford had been a tremendous success, with further investment in additional jobs to come.
"As long as we work together we can make GM and the North of England an extraordinary place," she said. "We're delighted to be here and will continue to invest."
Dr Kath Mackay, director of Life Sciences at Bruntwood SciTech, detailed some of the successes that have been seen across Greater Manchester in recent years and the role for innovation in supporting levelling up.
Referencing Innovation Greater Manchester – a key pillar of Greater Manchester's Levelling Up Deal with Government, she said:
"With the right investment, the region's life science ecosystem could triple by 2040. Its beating heart is in GM."
The GM LEP Reception was held in the St Peter's Square offices of professional services network KPMG, who sponsored the event alongside the Manchester office of Arup.
Visit www.levellingupgm.com to find out more about Greater Manchester's Levelling Up Deal with Government.