On Tuesday 17 May 2022, 4,000+ attendees came to Leeds Docks for the first day of UKREiiF, a three-day event which brings together public sector representatives, Government, investors, funders, developers, and housebuilders from every core UK city region focusing on real estate, inward investment and social.
Members of the GM LEP were in attendance including Leader of Manchester City Council Bev Craig and Mayor of Greater Manchester Andy Burnham.
UKREiiF is an opportunity for each city region to showcase the scale of their development and introduce future investment opportunities.
Greater Manchester attended UKREiiF with a Pavilion in collaboration with the Liverpool City Region. The Canary, a unique events space in the heart of Leeds Dock, will be used throughout the event to host partners and to facilitate meetings and networking events discussing further development opportunities in the region.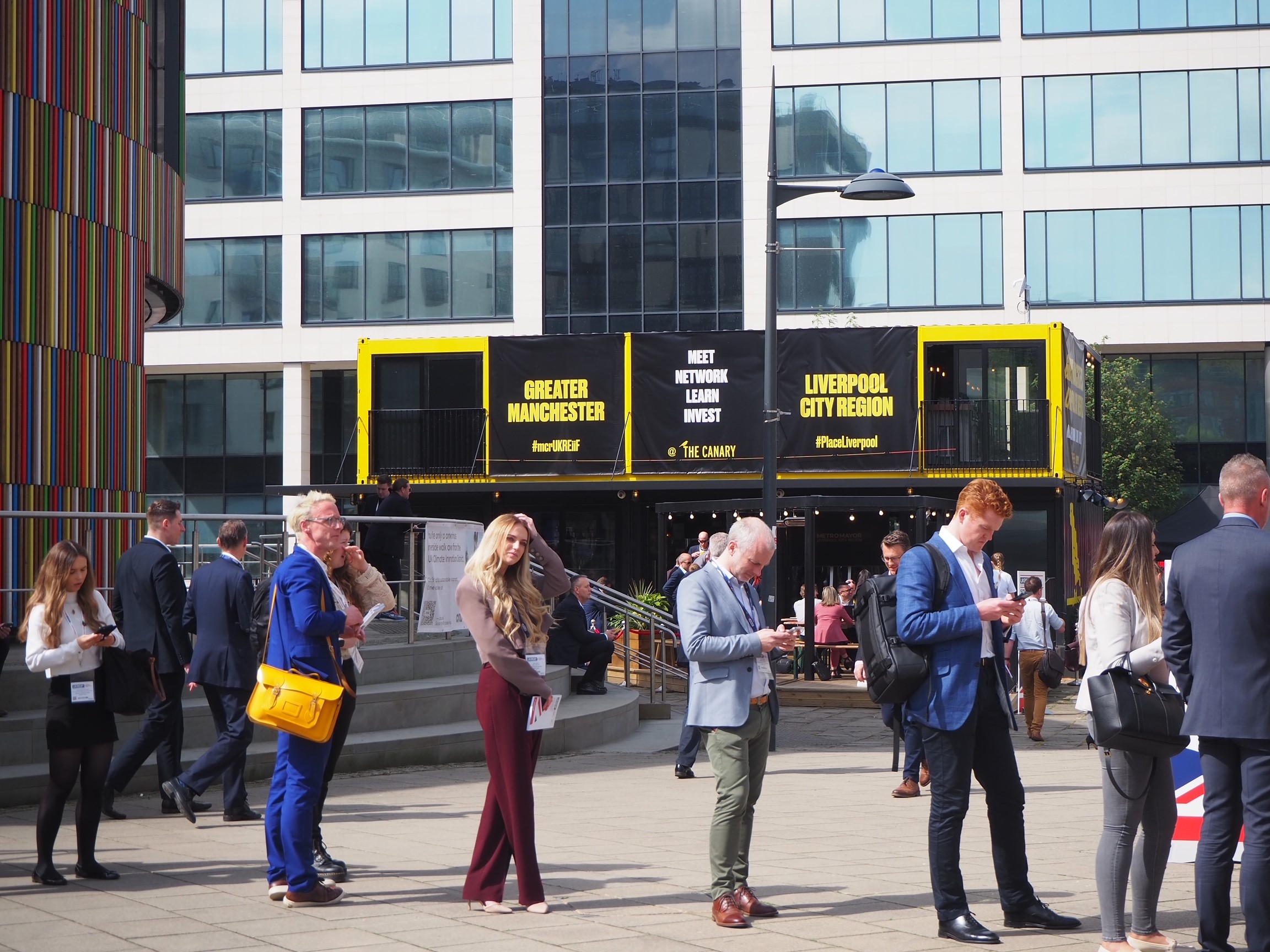 Here are some of Greater Manchester's highlights from Day One of UKREiiF:
Greater Manchester's time at UKREiiF was kick-started with Manchester City Council Leader Bev Craig joining a panel on Levelling Up Across the UK. Bev was joined by Mayors and council leaders from major cities across the UK including Edinburgh, Bristol, Belfast and Cardiff. During the talk, Bev stated, "If we are to genuinely level up, we need to look at how government decisions are framed and how we, over a period of time, take a view of the country which is less centralised. Levelling up can mean anything to anyone. Cities like Manchester will continue to set our articulate visions of what we will be in the future, it's for government to put that into action."
At the same time, Wigan took centre stage with Wigan Council's session, "Introducing Wigan". This provided an opportunity to present the town's potential to developers, investors and more by discussing large scale commercial and residential developments including the total redevelopment of the town centre. Alison McKenzie, Chief Executive and Aidan Thatcher, Director of Economy and Skills, both of Wigan Council took to the stage to talk about the opportunities in the town, with both ongoing projects and future development plans.
Mayor of Greater Manchester, Andy Burnham joined other city region mayors from across the UK including West Yorkshire and North of Tyne, in a talk around levelling up entitled "Leaving No Place Behind".
When discussing Greater Manchester, Andy Burnham stated,
"In Greater Manchester, we are developing a no place left behind strategy building on the strength of the city centre. But you can't bring every area up straight away, it starts with transport. You have to give people from across Greater Manchester access to these employment hubs with a London style accessible transport system. We have to prove as a country that the journey to greener is the journey to fairer with better jobs and more opportunities, then build on that prosperity."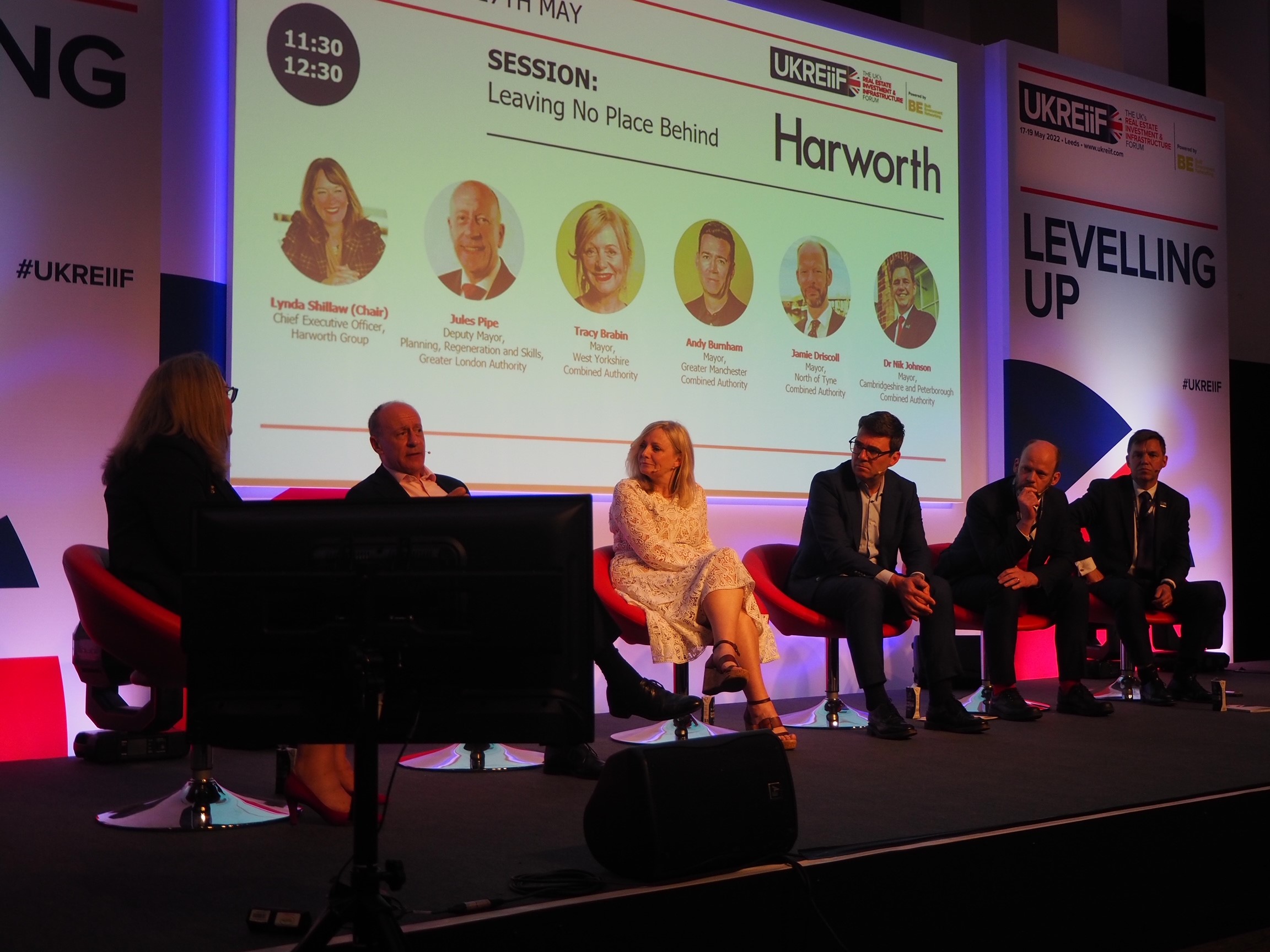 Gerry Brough, Director of Place Development for Bolton Council, joined a panel discussion called "Breaking the Mould: How can UK towns and cities innovate when funding major regeneration projects?" The talk discussed the development of brownfield sites, challenges with funding projects with limited budgets and the value of collaboration.
When discussing Bolton, Gerry Brough said,
"The private sector can't regenerate without the public sector but it's very site-specific and depends on the financial situation of the council. It's been a real challenge, if it wasn't for government schemes we'd have put in lots of plans for development and none of it would have gone ahead."
Andy Burnham, Mayor of Greater Manchester, provided a keynote at the Department for International Trade Pavilion. In his speech, Andy Burnham said "Pragmatic, imaginative and a vision, that's what keeps Greater Manchester moving forwards. We have absolute clarity in what we're trying to achieve and that prosperity will be spread around. We are the living lab for the rest of the UK and the place to make things happen."
All eyes were on Salford as leading figures from Salford City Council, MediaCityUK and the University of Salford, discussing the importance of building communities and the successful collaborations between the university, private developers and the council when developing MediaCityUK and The Crescent Salford. They discussed the changing attitudes in placemaking, to no longer be purely around bricks and mortar.
Josie Cahill, Place Director of Media City UK said,
"It's about an evolution of a vision. We've been looking at what people want following the pandemic. It's about having a real sense of purpose, connecting people to a place through culture, heritage, skills and talents. Then we develop partnerships around these pillars and make an effort to tell the story of MediaCityUK and the people within it. There needs to be generosity in placemaking, we need to open up our spaces to people."
In a private session, welcomed by Eamonn Boylan, Chief Executive of Greater Manchester Combined Authority, representatives from Greater Manchester, were joined by active developers and partners. It's hoped that the introductions made in this session will aid investment and regeneration across the city region, creating new opportunities for both commercial and residential development.
To end the day, delegates were invited to the Greater Manchester and Liverpool City Region Pavilion for a regional leadership debate between Leader of Manchester City Council and LEP member Bev Craig, Chief Executive of Liverpool City Region Combined Authority Katherine Fairclough and Leader of Leeds City Council James Lewis. In a debate hosted by Chief Executive of Downtown in Business, Frank McKenna, the local authority leaders discussed challenges with levelling up, plans for devolved powers and the importance of culture and heritage in placemaking.
When discussing Manchester, Councillor Bev Craig said,
"Ambition for a place is really important. For an area to thrive you need to invest in people. Thinking about skills improves prosperity and can take businesses into the future. In Greater Manchester we set a really clear vision, it's about making sure you select the right partner for the right place."
Following the debate, a drinks reception was held at the Greater Manchester and Liverpool City Region Pavilion in The Canary to provide a networking opportunity, and introductions and to celebrate the exciting rate of development across the North West.
Greater Manchester had a very productive first day at UKREiiF, with representatives from across the city-region coming together to discuss investment and opportunities which pave an exciting future for Greater Manchester and all of its residents. From showcasing the future of Wigan and Salford to discussing how Greater Manchester plans to level up, the first day of UKREiiF has been a unique opportunity to celebrate a prosperous and exciting future for our city region.
UKREiiF 2022 is running from Tuesday 17 May to Thursday 19 May.
Make sure you're following GM LEP and Manchester at UKREiiF and MIPIM on Twitter for live updates from the event.