On Wednesday 18 May 2022, representatives from Greater Manchester including GM LEP Board Members attended the second day of UKREiiF, The UK's Real Estate Investment and Infrastructure Forum to join in thought leadership discussions and to network with developers, investors and real estate professionals.
Greater Manchester, which had a pavilion in collaboration with Liverpool City Region, was at the centre of many insightful sessions around the future of investment and development across the UK as well as levelling up. There was also the launch of an exciting new opportunity in Stockport.
Here's a roundup of Greater Manchester's second day at UKREiiF:
The first talk of the day from Greater Manchester was called "Holistic Regeneration: Creating Thriving Places for People and Nature". For the panel discussion, Caroline Simpson, Chief Executive of Stockport Council was joined by Stephen Peacock Executive Director of Growth and Regeneration at Bristol City Council and Mike Palin, Executive Director of Markets, Partners, and Places for Homes England among others. A community-led approach to developments was discussed, tailored to people and places as well as funding schemes and attitudes to holistic regeneration.
Caroline Simpson said,"It's catalytic projects that really evidence that a place is on the move and is going somewhere like just outside of Stockport Station, that then builds confidence for other things to happen. Getting that spirit and ambition of the commercial sector gets people hooked in."
Lord Bob Kerslake, Chair of Stockport Mayoral Development Corporation joined a panel discussing how to reinvigorate town centres through investment and development. For "UK High Streets – How Do We Maintain Pace With Reimagining Place?" Lord Bob was joined by, Tony Reeves, Chief Executive of Liverpool City Council, Dr Angela Brockbank, Director of Thirteen Housing Group and Pat Ritchie CBE, Chair of Government Property Agency. With £1bn of Towns Fund being distributed amongst 45 locations and £830m worth of Future High Streets Funding, discussing the future of the UK High Street and solutions to make them work in today's society seems more necessary than ever.
On the introduction of Stockport's Mayoral Development Corporation Sir Bob Kerslake said,
 "Stockport MDC has a board of independent expert advisors who guide the work, there are no specific powers just a small team with sponsorship from the Mayor that links town and city, and it works."
There was also a discussion around the role of Combined Authorities in supporting the levelling up. Chief Executive of Greater Manchester Combined Authority, Eamonn Boylan was joined by leaders of other local combined authorities to discuss inclusive growth. Eamonn discussed Greater Manchester's ambitions to franchise its transport system, a focus on public service reform, the development of future skills and how Innovation Greater Manchester and the region's Universities are helping with levelling up.
Eamonn Boylan said,
"The levelling up agenda is a start, but we need to keep continuing to push further. We can't start giving people binary choices like whether health is more important than economic wellbeing, the things are interrelated. We need to measure ourselves on both. We can't simply measure life expectancy alone, it's about economic wellbeing of people and place."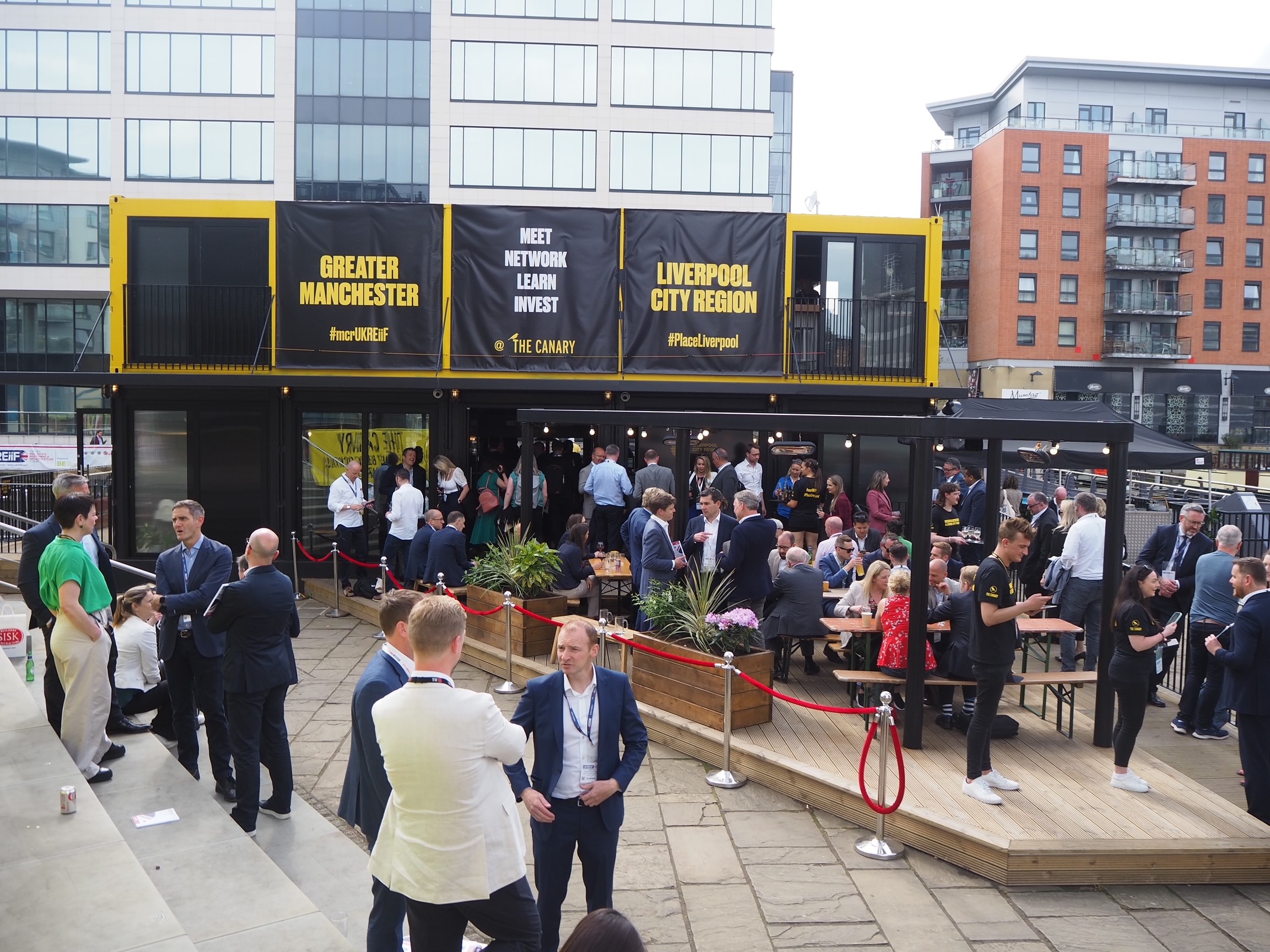 Stockport unveiled ambitious plans for the town's future in, "Stockport Mayoral Development Corporation's Next Opportunity". UKREiiF was the ideal opportunity to announce Stockport 8, the town's latest regeneration plan, and begin the search for a development partner. The new Stockport 8 development will be a 1,200 home, walkable neighbourhood with retail outlets, offices and leisure space. To announce the project Lord Bob Kerslake, Chair of the Stockport Mayoral Development was joined by Caroline Simpson, Chief Executive of Stockport Council, Adam White, Senior Director of UK Development Advisory at CBRE and Tim Heatly Co-Founder of Capital & Centric. 
Caroline Simpson, Chief Executive of Stockport Council said,
"The people of Stockport are really energised about what's happening. There's a real sense of nostalgia in our town centre that brings with it a sense of pride and a community alongside. Our community want to see the town centre revitalised."
Adam White, senior director of UK development advisory at CBRE and an advisor on the Stockport 8 scheme said:
"The scheme benefits from its scale, strong, cross-party, local leadership, and its connectivity. It has the potential to outperform its local and regional peers and bridge the gap to some exciting schemes."
Also, at UKREiiF City Mayor of Salford City Council Paul Dennett joined home builders and policymakers to discuss the housing crisis. In "Accelerating the Delivery of High Quality and Affordable Homes" the panel debated how to improve the availability of affordable homes, remove the stigma around social housing and how tackle the homelessness crisis.
Paul Dennett City Mayor of Salford City Council stated:
"In Greater Manchester have a strategy to create 50,000 affordable homes. 30,000 of which will be local authority, social housing and all will be carbon neutral. We can't deliver that without developers on board. We're committed to delivering community-led housing and placemaking.
"The next six months will be challenging for local government. The cost-of-living crisis is increasing demand for services and financial uncertainty on how local government will be funded is a real concern. If the Government don't work with us, it could destabilise and exacerbate the housing crisis What would be great is to get real certainty so that we can get on with the job in hand."
Greater Manchester speakers have offered great insights throughout UKREiiF and it's clear that the city-region remains ambitious, forward-thinking, and passionate about creating a fairer, greener, and more prosperous city-region. UKREiiF has allowed our councils and developers to meet with other innovators, hopefully creating the foundations for exciting things to come across Greater Manchester.
UKREiiF 2022 is running from Tuesday 17 May to Thursday 19 May. 22