On Tuesday 12 and Wednesday 13 July, Manchester Central hosted Transform 2022, a conference held by Siemens which aims to bring together businesses of all sizes, cutting-edge technology and leading voices to discuss how businesses can better prepare for a digital and net-zero future.
GM LEP Board Member and Director of Siemens UK&I Justin Kelly was in attendance and hosted a talk on the main stage all about the need for businesses to adapt in times of uncertainty.
With a cross-sector audience, the two-day conference focused on how businesses of all sizes and from all industries can embrace transformation to become more productive, sustainable and agile in preparation for future challenges.
These challenges largely centred around the race to net zero and the impact of climate change, the ability to maximise data and digital technologies as well as automation and the need for speed and transparency within supply chains.
Delegates were invited to trial the latest technologies and learn more about how they could be implemented into their businesses with the help of Siemens' tech specialists.
Technologies on display at the event included electric and hydrogen vehicles, sustainable food production, technology, automated manufacturing and supply chains as well as the use of AI.
Seminar sessions across the event were designed to deliver expert advice on innovations and best practices to help answer the real challenges facing today's professionals. While in challenge zones, roundtables were conducted on trending technology topics, giving delegates opportunities to share their thoughts and learn how others are approaching the same challenges.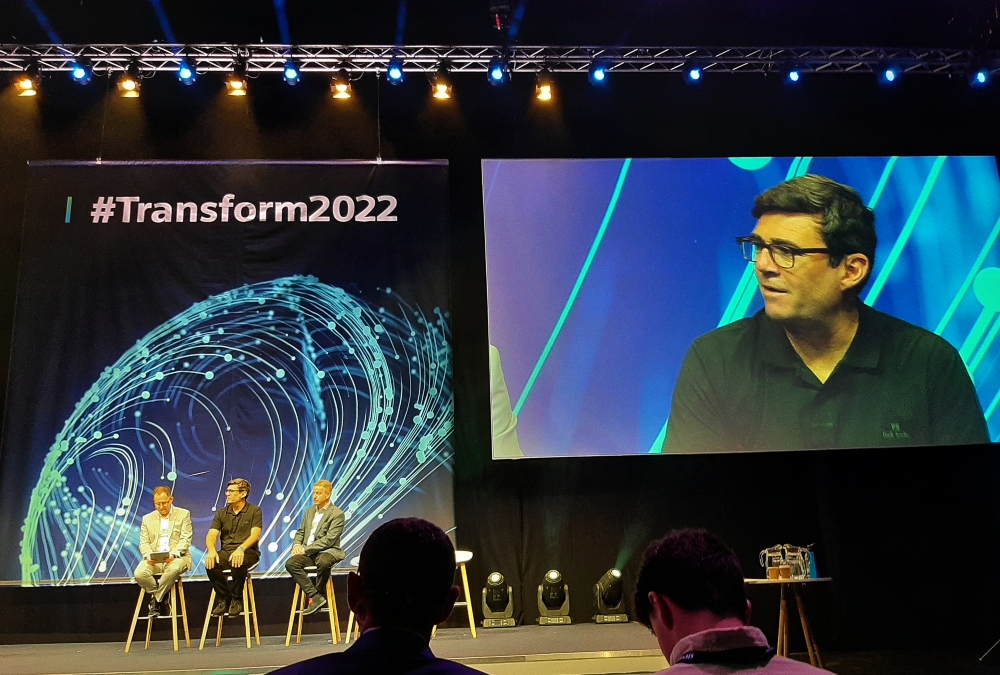 Transform 2022 also held talks from world-renowned businesses and leading voices in policy and economics covering a wealth of topics from using technology to transform industries to transforming infrastructure to decarbonise cities, towns, transport networks and more.
GMLEP Board Member and director of Siemens UK&I Justin Kelly hosted the first panel of the two-day event with special guest and LEP Board Member, Mayor of Greater Manchester Andy Burnham. In the talk all about building business resilience, Kelly and Burnham were joined by Carl Ennis CEO of Siemens UK&I to discuss the importance of innovation and business partnerships within our city region.
Andy Burnham stated,
"In Greater Manchester we have a clear path to be a zero-carbon region by 2038, to bring prosperity by becoming an early adopter and build the skills base early on.

"We need to have innovation at the heart of this city region. Challenges like net-zero will be faced up to by networks of businesses, academics and more rather than individual organisations working as one.

"The partnerships we have in Greater Manchester are phenomenal. Businesses that invest here mean something to us and the partnership is real. We need businesses that speak our language and will build from the bottom up."
Greater Manchester was also represented by Green Economy, promoting the Bee Net Zero initiative and how it can support businesses as they transition into a low carbon future. Bee Net Zero aims to make Greater Manchester the easiest place in the world to become a net-zero business through a collaborative approach between networks, organisations, suppliers and support programmes. It aims to make the transition to a low-carbon economy straightforward and cost-efficient.