Levelling Up Minister Dehenna Davison and Greater Manchester Mayor Andy Burnham, along with the ten local council Leaders, have today signed a landmark devolution deal for Greater Manchester, noting a shift in power, funding and responsibility from Whitehall to the region.
The deal gives more money and power to local leaders to invest in the priorities of local communities, such as better bus and train services, skills and housing.
A new long-term funding settlement will enable the Mayor and the Combined Authority to plan for the long term, with certainty, and generate benefits for almost 3 million people living in the area.
The trailblazing devolution deal will see Greater Manchester, and the West Midlands Combined Authorities, given money and powers handed directly to the Mayors, including a direct funding settlement, devolution of post-19 skills funding and functions and greater control of the affordable homes programme.
Signing the deal in Manchester on Tuesday morning, the Levelling Up Minister Dehenna Davison, hailed the deal as 'the start of Manchester's fourth industrial revolution'.
Andy Burnham Mayor of Greater Manchester said, "We've come to the end of the first phase of devolution. We've proved the concept and shown it can work. We're now entering the second phase and have been given the ability to shape that future for ourselves.

"This Deal takes devolution in the city-region further and faster than ever before, giving us more ability to improve the lives of people who live and work here.

"I have always been a passionate believer in the power of devolution, and I've been in the privileged position of being able to exercise those powers and make a positive difference to people's lives.

"We've worked hard to secure this Deal and have achieved a significant breakthrough by gaining greater control over post-16 technical education, setting us firmly on the path to becoming the UK's first technical education city-region; new levers and responsibilities to achieve fully integrated public transport including rail through the Bee Network by 2030; new responsibilities over housing that will allow us to crack down on rogue landlords and control over £150m brownfield funding; and a single block grant that will allow us to go further and faster in growing our economy, reducing inequalities and providing opportunities for all.

"With more power comes the need for great accountability and I welcome the strengthened arrangements announced in the Deal.

"We will continue to engage with the government moving forward on other areas we'd like to see more local control over in the future which will help us to continue to improve life for people in Greater Manchester and those visiting. For now, our focus will be on getting ready to take on the new powers and be held to account for the decisions we will be making on behalf of the people of Greater Manchester. 

"The signing of this deal marks a new era for English devolution."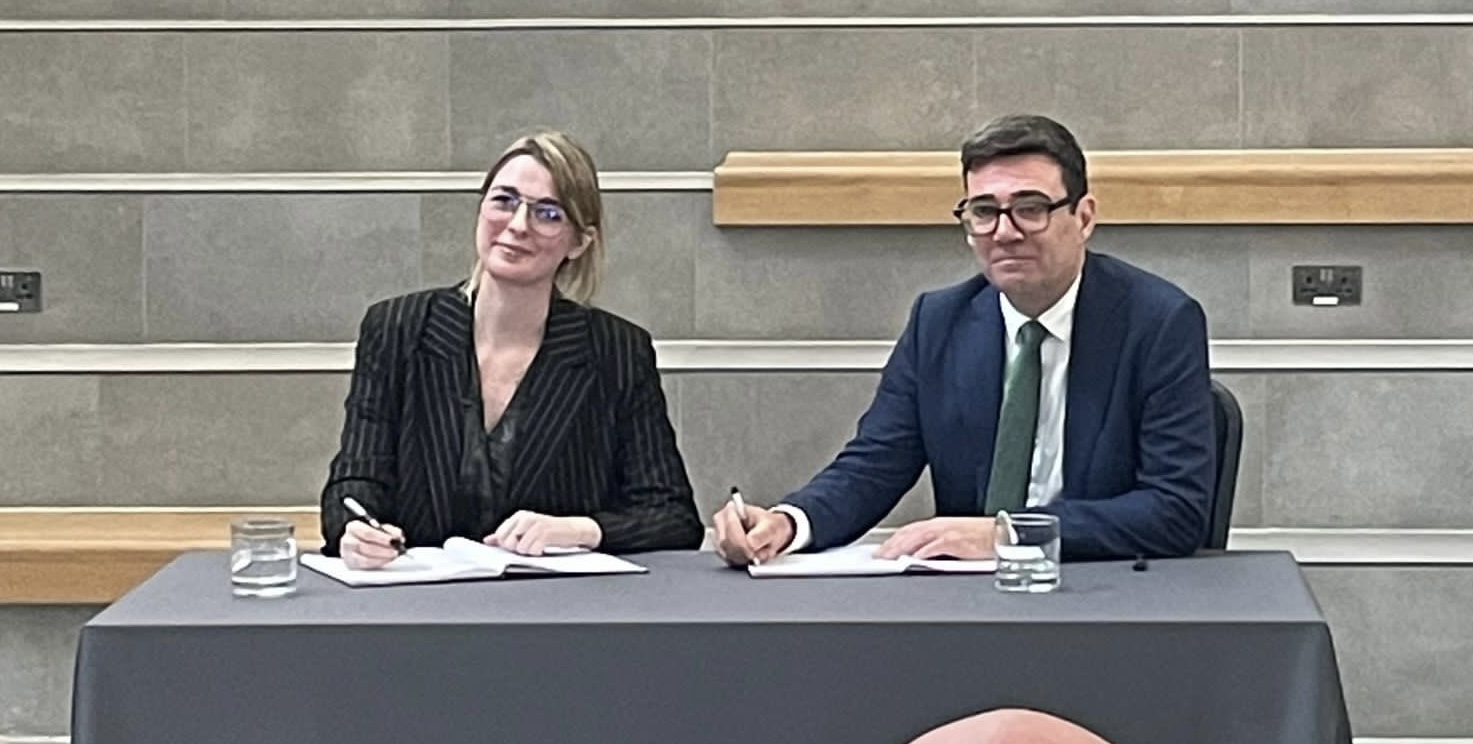 Levelling Up Minister Dehenna Davison, said "This will revolutionise the way Andy Burnham and his team will be able to perform here in Greater Manchester. "I'm proud to have agreed a historic and trailblazing new devolution deal with the Greater Manchester Combined Authority, providing the Mayor with more powers, money and an even greater say on how this iconic region is run.

"This is the very essence of devolution – leaders taking decisions and being accountable to the communities they serve.

"Covering everything from Bee Network buses to affordable home building, this deal will give leaders the opportunity to deliver economic growth, better services and high-quality jobs for people in Greater Manchester."
Dehenna Davison claimed the new deal, which was first announced last week during the budget, was almost parallel to the situation in Scotland and Wales.
What does this deal mean for Greater Manchester?
In case you missed it, the trailblazing devolution deal will see the following:
A new long-term funding settlement, including the right to retain 100% of business rates for 10 years and 25-year business rate retention in designated growth zones.
A wide-ranging partnership with Homes England, with a commitment to work towards investing £400m in Greater Manchester by 2026.
Further support for regeneration and infrastructure with £150m of brownfield funding, £3.9 million to eliminate the use of bed and breakfast accommodation for homeless families in Greater Manchester and £10 million to support levelling up and growth priorities for Greater Manchester.
A new rail partnership with Great British Railways to support the delivery of the Bee Network by 2030.
New 'pay as you go' ticketing pilots across the region and better integration of local stations.
More oversight and control over adult skills funding and more responsibility over developing and delivering careers advice.
Devolution of funding to retrofit buildings, to bring down energy bills for households across Greater Manchester.
A new partnership with national arts and culture organisations to harness Greater Manchester's globally renowned cultural strengths.
Tools to support the roll-out of high-speed broadband across the region.
Alongside these powers, a new framework will ensure that decision-makers in areas with devolution deals are accountable to their residents and deliver value for money, with a clear ladder of intervention to respond to underperformance.
The milestone comes days after Greater Manchester was announced as one of 12 new Investment Zone areas backed with £80 million over five years including tax incentives to drive local growth.