Digital leaders in Greater Manchester are now among 60 with the vision and the skills to pursue smarter manufacturing through Made Smarter's innovative Leadership Programme.
Five cohorts of managers and directors at SME manufacturing companies have now completed the Made Smarter Leadership Programme through the Lancaster University Management School (LUMS), the University of Liverpool (UoL) and Manchester Metropolitan University (MMU).
The programme encourages current and future leaders to develop a new way of looking at their business and create a clear strategy to enable the adoption of digital technology, including how that can drive the net zero agenda.
It uses a blend of workshops delivered by academics and experts in digital and leadership, site visits to SME manufacturers who are already on the journey of adopting digital technology, facilitated-learning sessions, and special project 'sprints' to test new ideas.
The programme also uses peer-to-peer coaching to create a trusted network of leaders, many of whom have remained in close contact.
Among the trailblazing businesses to embark on the programme are: Arden Dies (Stockport), Eurofabs (UK) Ltd (Rochdale), DRM Industrial Fabrics (Bury), Fintek (Ramsbottom), and Heatsense Cables (Rochdale).
With 60 SME leaders now empowered to transform their businesses, manufacturers across the North West are now being encouraged to register their interest for the next two cohort intakes, starting on October 7 and November 10 at Lancaster University.
Donna Edwards, Director of the Made Smarter Adoption Programme in the North West, said:
"I am delighted that the Leadership Programme has helped create 60 new digital leaders by giving them time out of their business to reflect on the bigger picture and share ideas and experiences alongside their peers in manufacturing, and then return to their own business and develop a digital strategy to create growth and efficiencies.
"They are among hundreds of manufacturers in the region grasping the opportunities offered by Made Smarter which include expert, impartial technology advice, digital transformation workshops to help take that first step to transform a business, funded digital technology internships, and support with technology adoption projects.
"I would encourage SME manufacturers to make contact with Made Smarter to find out how we can help with leadership development, skills, and how to adopt technology the right way."
The programme, which takes place over eight months, includes seven workshops led by both academics delivering leading edge thinking and business practitioners demonstrating adoption in real business settings.
Delegates will also embark on 'sprints' where they will test their ideas with other business leaders to build engagement and learn from each other.
Virtual site visits to SME manufacturers already driving digital in their companies included Runcorn-based Hosokawa Micron Ltd, a manufacturer and supplier of powder processing systems and equipment which has transformed its production performance through the application of digital technologies, and Veka Plc, a Burnley-based manufacturer of PVCu window systems.
Sarah Poynter, Operations Manager at Arden Dies, a die and tooling manufacturer based in Stockport, said:
"Through the programme I was able to identify several clear opportunities to make some significant changes which would bring benefit to the business. Furthermore, I was able to use the sprint approach to accelerate making those ideas a reality.
"One sprint was all about addressing a number of significant production issues relating to an existing product line which demanded very short turnaround times, high volumes and quality specifications. By automating large parts of the process we were able to accelerate the end to end process.
"While some of the sprints are still in play, they have been game-changing through reduced wastage, increased agility, quality and improved delivery performance."
Registration for the next Leadership Programme is now open. For more information or to apply for your place visit madesmarter.uk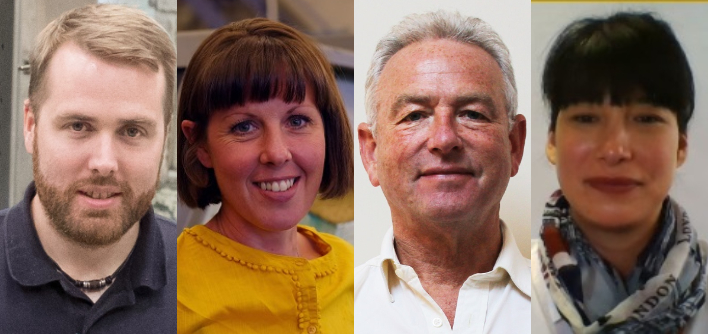 L-R: Jamie Phillips (Fintek) Sarah Poynter (Arden Dies) Jeremy Kemsley Pein (Heatsense Cables) and Andrea Kuehne (DRM Industrial Fabrics)