Greater Manchester is building on its international reputation for cycling success with a vision to encourage green transport and economic growth. Supported by GM LEP investment, the city-region is pedalling towards green growth and a more sustainable future.
It became known the world over as the Medal Factory, forging incredible international success for British Cycling while demonstrating the benefit of visionary investment in world-class infrastructure.
Opened in 1994 as a joint venture between Sport England, Manchester City Council and British Cycling, the Manchester Velodrome was the UK's first indoor Olympic-standard cycling track.
Athletes trained at Manchester Velodrome secured 14 out of 20 potential gold medals at the Olympic Games in 2008 and 2012.
It contributed massively to the stellar careers of British athletes including Victoria Pendleton, Sir Chris Hoy and Chris Boardman, who today serves as Greater Manchester's walking and cycling czar.
Now part of the HSBC National Cycling Centre, Manchester Velodrome arguably began the cycling revolution which has taken on even greater significance as the threat of climate change looms large over cities.
At a time when the UK Government has acknowledged the importance of walking and cycling as part of the Green Industrial Revolution, Greater Manchester is already geared up for green growth.
What started on the track continues on the streets as Greater Manchester bids to meet an ambitious goal to achieve carbon neutrality by 2038.
It was two years ago that Chris Boardman first unveiled his bold £1.5bn, 10-year plan for 1,800 miles of cycling and walking routes across Greater Manchester.
Speaking at the time, Boardman said: "There's no doubt that this is an incredibly ambitious but wholly deliverable plan to get Greater Manchester moving by bike and walking.
"The Mayor of Greater Manchester tasked me with thinking creatively, challenging assumptions and pushing the boundaries of what should be possible. My proposals, the product of many months of work, will ease congestion on our overcrowded roads, improve our general health and wellbeing and help us breathe cleaner air in a greener city-region.
"It will require significant support but the decades of improved living that we, our children and grandchildren will be able enjoy will make it worthwhile."
Supporting this vision, plans are in place to enhance the city-region as a UK leader in cycling and walking, and investment in new infrastructure aims to pave the way for the region to achieve its green goals.
Back in 2018, Greater Manchester Combined Authority agreed to allocate £160m of Greater Manchester's £243m Transforming Cities Fund to develop a Mayor's Cycling and Walking Challenge Fund (MCF).
Helping the region reach its goals, Greater Manchester Local Enterprise Partnership (GM LEP) has provided £30.5m funding from the Local Growth Fund, which includes a £13.4m investment in cycling infrastructure, and a further £17.1m provided for walking.
The pandemic has provided clear evidence not only for the environmental benefits cycling and walking brings by reducing carbon emissions, but also the wellbeing benefits of improved physical and mental health for the residents of Greater Manchester.
There are other potential economic benefits too, with India's Hero Cycles (see case study) among businesses keen to invest in a region with a rich history of innovation and sport. In part, they were attracted by the opportunity to work alongside scientists developing new applications for graphene and other 2D materials.
In line with the recently unveiled GM Economic Vision, which supports green growth, the region aims to re-think the way residents and visitors move around to cut congestion, air pollution and keep people active.
Part of the new investment by GM LEP will support the city-region's post-Covid ambitions, with funding supporting projects to increase cycling and walking road space, contributing to lower emissions, and building the infrastructure that encourages residents to prioritise walking and cycling as a green and healthy way to travel.
Covid-19 has given opportunities for cities like Manchester to experiment, and throughout the UK lockdown both Deansgate, the city's main thoroughfare; and Stevenson Square in the Northern Quarter have temporarily been pedestrianised to allow for greater accessibility to residents and to help with social distancing.
Plans are now under discussion to make the two sites permanent pedestrian zones to allow for more Continental-style on-street seating and walking provisions. Elsewhere, as part of the Town Hall renovation project, work is now fully underway for the expansion of Albert Square, which will ban through traffic and enlarge the square by 20 per cent to allow for pedestrians, events and increased seating.
Key among Chris Boardman's ambitions is the Bee Network, which is the walking and cycling element of the Our Network plan to transform Greater Manchester's transport system.
The Bee Network, once complete, will cover circa 1,800 miles and be the longest, integrated, planned network in the country connecting every neighbourhood of Greater Manchester.
The aim of the network is to reduce the 250 million car journeys made by people in the region that are less than the equivalent of a 15-minute walk or 5-minute cycle ride.
In November 2020, Greater Manchester was successful in securing almost £16m from the Government's active travel fund for schemes to deliver cycling and walking routes and low traffic neighbourhoods. This is in addition to £3.1 million granted to the city-region in July 2020.
Cycling and walking routes are already being delivered by local authorities across Greater Manchester with a commitment to deliver 55 miles by December 2021.
Making cycling and walking more attractive is one of the measures outlined in Prime Minister Boris Johnson's Ten Point Plan for a Green Industrial Revolution for 250,000 jobs.
Supported by GM LEP, the cycling and walking revolution is already well underway in Greater Manchester.
 "GM LEP has provided funding to support the development of infrastructure across Greater Manchester, which will not only improve the lives of residents but offer a key driver for investors to look to relocate to the region, bringing jobs and boosting the economy, which will allow greater investment in future green projects," said Lou Cordwell, Co-chair of GM LEP.
"Not only is cycling and walking incredibly important to mental health and wellbeing, it is also part of our ambition to build back better and supports green growth, one of the priorities within the new GM Economic Vision."
Case study: Hero Cycles
As the UK's fastest-growing economy outside of London, and the most successful city in the UK for attracting Foreign Direct Investment, Manchester has caught the attention of international investors, who are attracted to the city-region for its growing infrastructure, expertise, and availability of creative talent.
India's Hero Cycles, the world's biggest manufacturer of bicycles, established their Global Design Centre in Manchester in 2017 to access the talent – for R&D and design – and to collaborate with the World Class universities in the region, the local Government and Transport for Greater Manchester – to develop and demonstrate micro-mobility and e-bike solutions.
Pankaj Munjal – Chairman and Managing Director of Hero, said: "A presence in Greater Manchester gives us access to talent and testbeds – it's a City Region committed to Carbon Neutrality by 2038, and one that's taking action to hit this goal.
"This gives innovative companies opportunities to develop and pilot new products, demonstrating them at scale and gaining competitive advantage. Every time I am in Manchester I am excited and inspired by what I see!"
To find out more about Greater Manchester Local Enterprise Partnership's Economic Vision for a fairer, greener, growing economy go to www.gmlep.com/economicvision.
Pedal power and the cycle of success behind Greater Manchester's green transport goals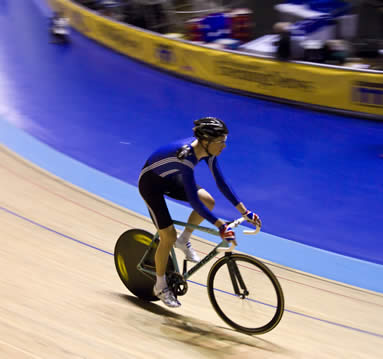 Cyclist at the HSBC UK National Cycling Centre