Diverse species to transform an area previously inhospitable to trees in a former industrial area awarded Government funding directed by GM LEP
A collection of 140 mature trees of 43 different species have arrived in the UK ahead of being moved to their forever home at Manchester's new Mayfield Park, the city centre's first new park in 100 years.
The diverse species, including eye-catching, 12-metre tall Austrian Black Pines, will help to create a stunning, biodiverse natural landscape in an area of the city where few trees have ever been grown before.
As the epicentre of the textiles industry during the industrial revolution, the high levels of pollution from coal-burning cotton mills and workers' homes at Mayfield meant the area was inhospitable to trees. Now, in a major step forward for green space in Manchester, Mayfield will be home to both UK native and non-native trees procured by the Mayfield Partnership from across Europe.
Mayfield Park was one of seven projects in Greater Manchester to receive a share of £54.2m from the UK Government's Getting Building Fund.
Projects were chosen that would support the Greater Manchester Local Industrial Strategy agreed with Government by the Greater Manchester Combined Authority and GM LEP in 2019.
The Government pledged £23m of investment from its Getting Building Fund – one of the largest investments in any single project – to Mayfield Park.
The trees are currently being nurtured by local experts at Specimen Trees in Knutsford, Cheshire before being relocated to Mayfield in late autumn as part of a massive planting operation that will also introduce around 120,000 plants and bulbs of 250 different species to the Park.
When it opens to the public in autumn 2022, the Mayfield Park will feature open lawns, riverside walkways, three new bridges over the River Medlock, play areas and a variety of seating options, ensuring all members of the community have spaces they can visit and enjoy.
Arlene van Bosch, Mayfield Development Director at developer U+I, said:
"The arrival of the trees in the UK is such an exciting milestone for the creation of Mayfield Park. After many months of excavations, ground works and efforts to bring Mayfield's hidden river back into view, we can't wait to introduce these mature trees to their new home, alongside the thousands of wildflowers and plants that will bring the park to life as a vibrant, stimulating, sustainable and safe space for people to enjoy.
"We are thrilled to have been able to procure such an interesting and diverse collection of species to populate an area where few trees have ever grown before, turning what was once a hotbed of pollution into a 'green lung' for the city."
Mayfield Park will be home to a variety of sizes of tree, ranging from three metres to upwards of 12 metres. Among the diverse collection of trees being brought to Manchester are the Quercus Rubra, or the Northern Red Oak, Slyphnolobium Japonicum, or Japanese pagoda tree and the Metasequoia Glyptostroboides, or the dawn redwood, which currently has endangered status.
Trees such as the Carpinus Betulus, or European Hornbeam, which are renowned for their climbing form, will be planted tactfully throughout the development to encourage people to engage with nature along the newly-uncovered River Medlock, which meanders through the heart of Mayfield.
The trees have been carefully selected by landscape architect Studio Egret West (SEW) working closely with Manchester City Council, the Environment Agency and the Greater Manchester Ecology Unit.
Tracey Rawlins, Executive Member for Environment for Manchester City Council, said:
"Mayfield Park will be a fantastic green addition to the city centre and help contribute to our policy of planting thousands of new trees across the city.
"As well as looking great, they help improve air quality, reduce flood risk and counter the effects of climate change by absorbing and storing carbon. Trees have an important role to play which is why we have launched the £1m Tree Action MCR planting programme."
Duncan Paybody Associate Director & Landscape Architect at SEW, said:
"Trees are a crucial feature of the park design. We have chosen a variety of native and non-natives as we think it's important that the first park of its kind in the city centre should provide a botanical collection to enlighten people's knowledge and awareness of tree species.
"Climate resilience has also influenced our choices so species such as Catalpas and Gledistisas represent trees tolerant of slightly warmer climates.
"We have planned for time. Seasonal autumn leaf colour, spring and summer blossoms will signal different times of the year while long-lived species such as Metasequoia and red oaks will continue to grow and provide impressive scale for future generations."
The new park is being created by the Mayfield Partnership, a public-private venture comprising regeneration specialist U+I, Manchester City Council, Transport for Greater Manchester and developer LCR.
Overall, the Mayfield regeneration scheme – one of the largest in the UK at 24-acres – is set to transform a gateway brownfield site next to the city's mainline Piccadilly Station, into a stunning mixed used neighbourhood, delivering 1,500 homes, 1.6m sq ft of market-leading commercial space and 300,000 sq ft of retail and leisure facilities.
In 2020, the UK Government pledged £23m of investment from its Getting Building Fund – one of the largest investments in any single project – to Mayfield Park.  This investment, delivered through the Greater Manchester Combined Authority, is part of the Government's strategy to support 'shovel ready' schemes that will help to drive economic recovery following the COVID-19 crisis.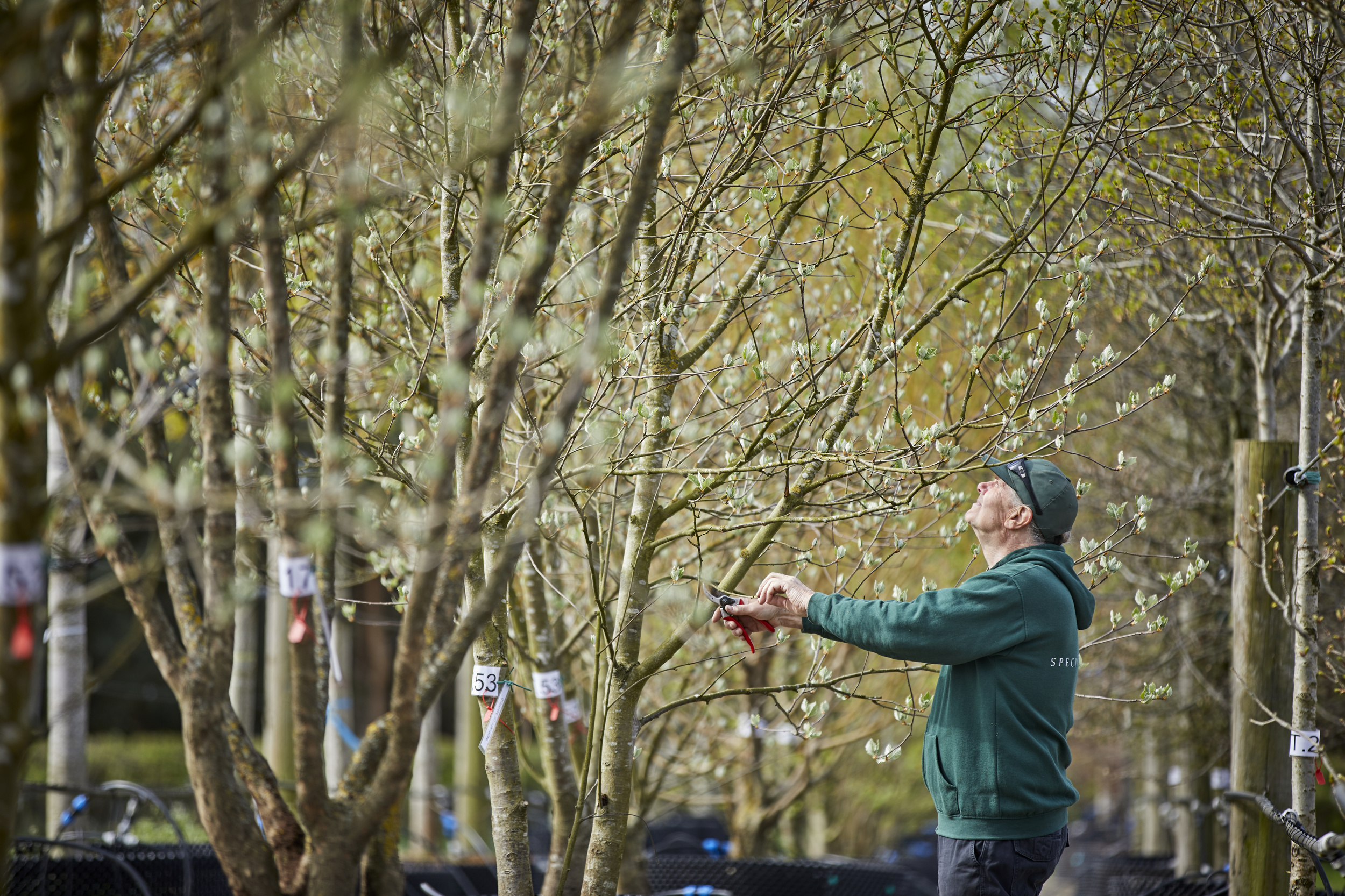 Specimen Trees of Knutsford are supplying mature trees for the Mayfield Garden, pictured Mike Evans from Specimen Trees